Kim's Crafty Apple has MOVED to www.PersimonDreams.com

7:49 AM
|
Edit Page
I've started a super fun quilt along on my blog -
Home Sweet Home
.
Here are all the important links you'll need to keep posted with all the fun!
Here are all of my blocks!
Schedule
Block 1
- My Home by Kim Lapacek of Kim's Crafty Apple
Block 2
- Lapacek's Orchard by Diane Lapacek of
Lapacek's Orchard
Block 3
- House on the Bay from
Pamela Quilts
Block 4
- My Titled House from
Quilts by Barb
Block 5
- Two Trees from
Terry Aske Art Quilts
Block 6
- Tree of Life from
Quilties
Block 7
- Under the Moreton Bay Fig from
QuiltJane
Block 8
- A Wonky Modern Hosuse by Kim Lapacek of Kim's Crafty Apple
Block 9
- Scrappy Trees from
Sew BitterSweet Design
Block 10
- A Home for the Birds from the
Quilting Gallery
Block 11
- The Happy Tree from
Prairie Moon Quilts
Block 12
- little house from
Olive and Ollie
Block 13
- three trees from
Around the Quilt Block
Block 14
- Under the Apple Tree from
Lilac Lane
Block 15
- A Home For Hoot from
Samelia's Mum
Block 16
- Branch Sweet Branch from
Sally's Angelworks
BONUS Block
- accuquilt home
BONUS Block
- Marcia's Crazee Patch House
BONUS Block
- Rippling Pond
BONUS Block
- Acid Cottage from Love Affair with my Brother
Template for how I pieced my Home Sweet Home Top
Bonus Sashing Tutorials
(Some sashing's may be named but not linked...their tutorials are coming soon!)
Scrappy Strips
Stepping Strips
Window Trees
Mosaic Tree
Spinning Tree
Diamonds in the Rough
Geese a Flying
Tall True North Tree
Wild Trees
Eight Rectangles
Branches Wild
Steps
Stripped Squares
Tri-Recs Trees
Strips and Mosaics
Stacked Modern Pine
Suburbia
Tetris
Spinning Pinwheels
Happy Neighborhood
Nine Patch Centered in Red
True North Mini Tree
Chevron
Tri Strips
Twelve Rectangles
Zig Zag Pathways
Bird House
Tall Pinwheel Tree
True North Tree
Rail Fence
Two Rectangles
Stepping Strips 2
Cornerstone Ideas
Fat Quarter Shop Fabric Finds
Flickr Group
PRIZE OPPORTUNITY!
Anyone that brings a completed 'Home Sweet Home' Quilt to Show and Tell at the
2012 Quilt Retreat Getaway Weekend
hosted by QuiltsbyBarb will receive a $10 gift certificate to the quilt shop at the retreat in honor of the 10th anniversary.
One $25 gift certificate to the quilt shop at the
retreat
will be given to a recipient of the viewer's choice award decided by the retreat attendees.
Additional qualifications for the above prize: The quilt must include on the front at least 12 of the 16 blocks from the Quilt Along. It must also include the blocks designed by Kim Lapacek, Diane Lapacek, and Barb Raisbeck.
Grab the code and put this button on your blog - helps you remember AND helps share the fun with others!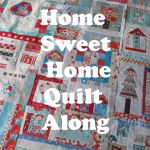 0 comments
Sign Up for my Newsletter!

Blog Archive

Popular Posts
In a previous post I talked about creating a barn quilt to hang at my orchard. Well, the process has begun and I plan to keep you all 'in...

I finally got Cedi and Capri to wear the dresses they dyed at our Summer Dying Day AND to 'pose' for me! I'll apologize right away – I'm ...

I wanted to wish everyone a Merry Christmas before I shut my computer down for the next few days.  My littles are tucked into bed with instr...

Here you go:  Don't forget that we have a few new merchandising tips for our shops this month from ETSY that can be found HERE .   KEY W...